May 19, 2015
Napa Valley: Part 2
It has been two weeks since we returned from Napa Valley and we are still gushing over what an amazing trip it was. Partially because we were without the kids, but also because it was the perfect place for us foodies to visit. Here are a few more details from our awesome trip: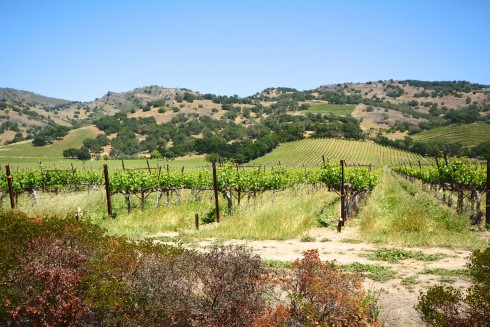 The beauty of the time difference was that we were up and at 'em bright and early every morning. This made it easy to grab one more breakfast at Oxbow Market (we were hooked on the breakfast tacos, chilaquiles, and donuts with lavender sugar) before heading to Mumm Napa to start the day with a little bubbly. It was the first sparkling wine we'd tasted in the region and we were pleasantly surprised. The winemaker is trained in France and they use the same method champenoise in Napa, so the product is very close to its French counterpart. We also tried their sparkling Pinot Noir which we found quite unique.
Once we were fortified with bubbly we decided to break out of Napa and check out Sonoma. It just over the mountain ridge from Napa and was a gorgeous drive. I couldn't get over all of the amazing vistas and made my husband pull over every mile so I could take a picture until he finally refused out of concern we'd never reach our destination.
Friends of ours recommended visiting Göpfrich Winery. It is a small, boutique winery in the Dry Creek Valley run by Ray Göpfrich. I didn't get many pictures because it was just my husband and I at the tasting. We chatted with Ray for over an hour about his wine making process and all the nitty gritty details about farming grapes and running a vineyard. It was utterly fascinating and we both agree he was one of the most interesting people we met on our whole trip. I also loved seeing the difference between the boutique vineyards and larger operations like Stag's Leap. Both are relevant, but we really appreciated the charm of chatting with Ray and tasting his delicious reds.
That afternoon we decided to take it easy and stroll through Healsburg. It is a charming town with a lot of shops and restaurants to try. Next time we go we'll have to dedicate a whole afternoon to hanging out and staying for dinner.
Since it was our last vacation afternoon we decided to head back to Yountville and take a walk through town. I was particularly fascinated with the French Laundry kitchen garden. I found that lots of restaurants have them since the growing season is so long and the land is ideal for growing edibles. We didn't eat French Laundry, that will be saved for another trip.
After another wonderful afternoon by the pool (we couldn't get over the fact that we didn't have kids on our backs while we swam), we headed for a simple dinner at Bistro Jeanty and off to bed.
On Sunday morning we managed to squeeze in two last excursions that were well worth it. The first was Swanson Vineyards. I'll admit, I wanted to go because I'd heard about the beautiful interiors and fun Sip Shop. I am a sucker for great design and lush gardens and wanted to see it for myself. I am so glad we did this because the tasting salon was easily the prettiest one I'd seen during our entire trip. Our hostess was charming and informative and the wines were quite delicious. I especially loved the taste of Swanson cavier we were given (served on a potato chip with creme frâiche!). Such a fun treat!
After our visual and edible feast at Swanson it was time to head out. We were, of course, hungry before our flight and stopped at the Fremont Diner for one last decadent meal. As with all great Napa and Sonoma institutions this one featured a fabulous bar (in an airstream trailer out back) stocked with local wines. We chose a bottle of Gloria Ferrer because we didn't get to visit the winery (they were closed for moving while we were there). It paired beautifully with our fritters and burgers, and the kitchy ambience was a hoot. There was no better way to bid Napa adieu until our next visit.